next-gen tactical solutions
A NEW ERA IN COMBATANT CRAFT IS HERE
Whiskey multi mission reconnaissance craft
Inter-Op is proud to partner with The Whiskey Project Group, a trusted and proven Australian maritime organisation whose businesses have a collective 90 years spanning the end-to-end design, manufacturing, maintenance, and sustainment of high-performance watercraft for International Defence, Public Safety and Maritime Search & Rescue markets.
The Whiskey Project watercrafts are the product of collaboration between experienced military operators and world class maritime engineers, architects and innovators, to provide the ADVANTAGE in contemporary maritime missions with NextGen C4ISR integrated in Canada.
The Whiskey Project Group has proudly played a role in the design and build of over 200 watercraft for government agencies, and all three of The Whiskey Project Group's businesses are contracted suppliers to Defence across watercraft design, manufacturing and innovation projects.
Integrating fit-for-purpose features and leading technologies never before collectively applied to a combatant craft – and featuring the world's most technically advanced powerboat hull – WHISKEY MMRC is a purpose-built multi mission combatant craft that vertically integrates with personnel and C3 systems and is specifically built to meet the operational needs of the contemporary warfare environment.
WHISKEY MMRC provides organic littoral manoeuver from the sea to support surveillance, collections, target acquisition, battlespace shaping and reconnaissance, whilst reducing its signature from adversary sensors. It extends the operational reach of commanders and facilitates multi-domain collaborative operations whilst providing a mission configurable platform compatible with Air / Rotary wing and Navy ships.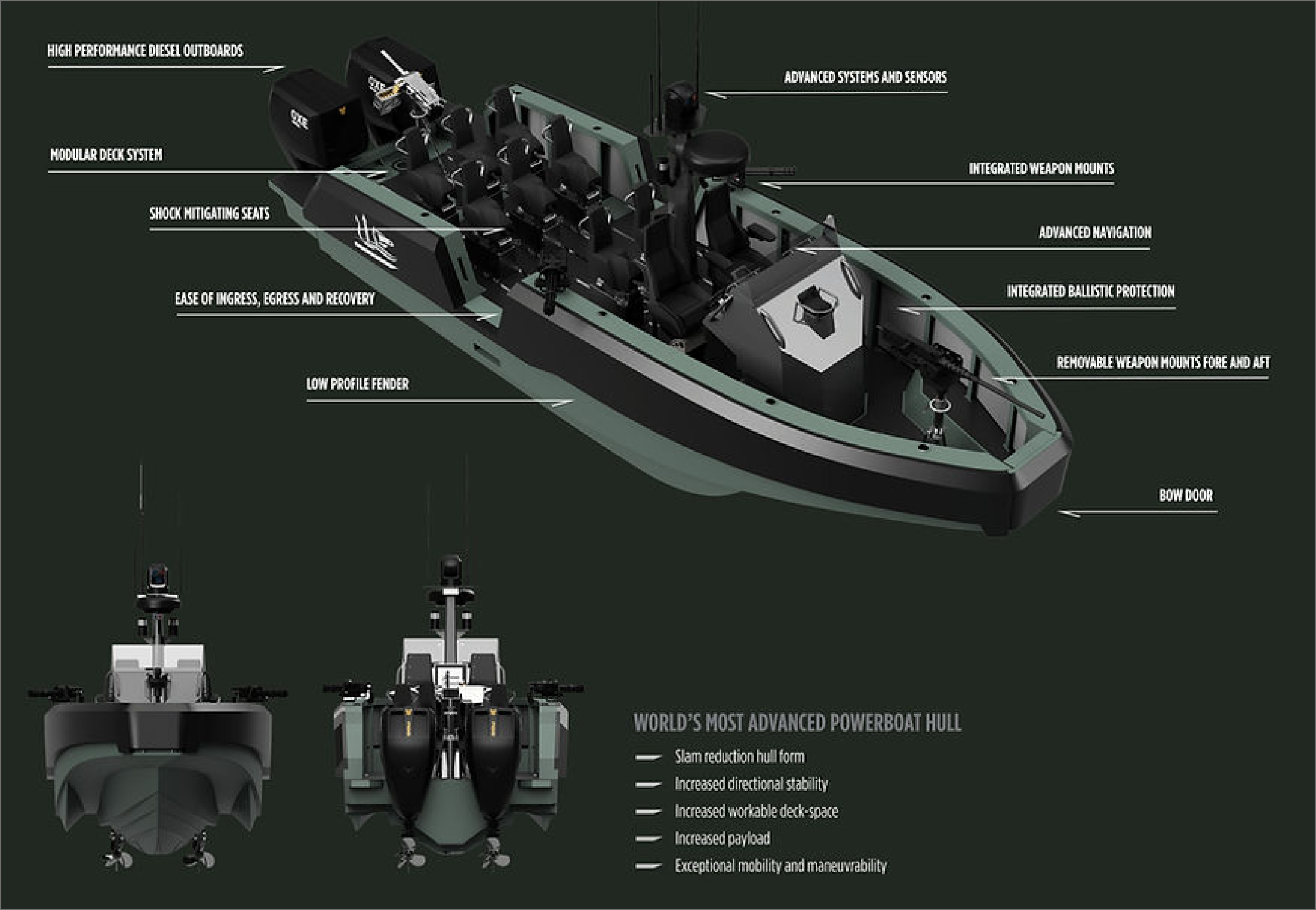 Whiskey horizon strike
WHISKEY Multi Mission Reconnaissance Craft introduces the WHISKEY HORIZON STRIKE™ technology suite, a game-changing low signature Sense First, See First, Strike First solution that combines advanced maritime systems, sensors, and effectors with proven US in-service tactical networks and situational awareness tools.
Developed by our existing technology integration Partner, Aries Defense, and in partnership with The Whiskey Project, WHISKEY HORIZON STRIKE is fundamentally integrated into the WHISKEY MMRC design, facilitating enhanced operational awareness, command and control, and coordination of multi-domain effects to provide Commanders with decision dominance.
WHISKEY MMRC provides a competitive advantage to the warfighter, a capability advantage to the mission, and greater opportunity to control the advantage in the maritime battlespace.
Our focus is your advantage.